News
Tips On Moving Office Equipment
.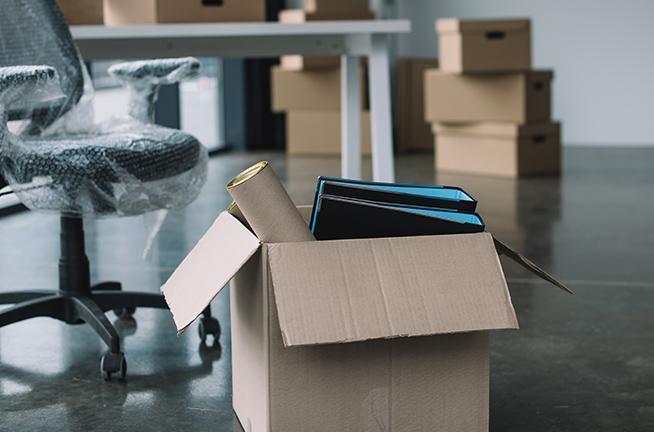 As companies grow and evolve, they often find that their existing office space, layout, or location no longer fits their needs. Any office relocation is going to involve moving your office equipment.
The initial excitement of moving to a more well-suited location and office space can quickly fade though as you get into the nitty-gritty details of planning the office move itself. Let's face it. Moving is stressful at any level and moving an office means even more. Most people have personally moved multiple times in their lifetime but moving one's business is a completely different undertaking. When you start thinking about moving all the desks, computers, furniture, files, and office equipment to move, the scope of the project can begin to seem a bit overwhelming.
Go With A Reputable Commercial Moving Company
While it might be tempting to cut corners and even ask the employees to help move your office equipment, it's really not a very good idea. It's just not worth the risk of someone injuring themselves or damaging something while trying to manipulate and move office equipment. If something like this would happen, you could face mounting costs that might end up being more expensive than the cost of hiring a commercial moving company.
The professionals at M3 Commercial Moving & Logistics are highly trained in their craft. They'll properly pack, load, transport, and unload your office equipment efficiently in minimal time. M3 Commercial Moving & Logistics can also handle specialized moves that involve extremely heave or tricky to handle items, stairways, and other specialized circumstances.
The primary component of moving office equipment is the safe loading, transporting, and unloading of this high value equipment. Proper attention to specific details for each piece of office equipment is the key to a successful move.
Each piece of office equipment may have different requirements when it comes to packing and moving it. This is why it's important to use professionals to ensure that they are moved properly so potential costly problems related to moving them can be avoided.
Here are a few tips to help ensure moving your office equipment is a success.
Conduct An Audit Of All Of Your Office Equipment
Get in touch with each vendor and check with them to see if there are specific manufacturer guidelines that should be followed as it pertains to moving each piece of office equipment.
Make Sure Your Moving Company Specializes In Commercial Moves
A specialized commercial moving company will have all pertinent training and equipment associated with moving an office. at M3 Commercial Moving & Logistics, commercial moving is all we do. It's not a residential side offering… it's all we train for and it's all we do. We have the expertise and specialized equipment to ensure that your valuable office equipment and furnishings are expertly packed, protected, and re-assembled at your new location. We make sure if there is any downtime to your business it is as minimal as possible.
Do You Lease Your Equipment
If you lease your office equipment, then it would be expected that the equipment's vendor would handle the logistics of moving these particular pieces. If you don't go through the vendor, you risk voiding the warranty on the equipment or even be in violation of your leasing agreement. Double check all of this with your vendor and leasing agreement. Make sure that you make arrangements for the move well in advance so you can get on the vendor's calendar and coordinate the timing.
Internal Project Manager
Depending upon the size and scope of your move, you may want to assign an internal project manager to be the company's point person with the moving company. The internal project manager can assign internal tasks and preparations based on expertise and skill levels of the staff. And, for example, can determine if the company's IT team can fully execute the move and setup or if further specialization would be required for support.
Insurance Coverage
Get up with your insurance company to make sure that your office equipment is covered under your policy during the move. Look for any gaps in coverages and make arrangements for proper coverage if it's not.
Use Copious Amounts Of Labels
Label everything. Even take pictures. Keep meticulous track of all office equipment cables, wires, and power cords. No doing so could result in big wastes of time when you're trying to get everything set back up. Get this done correctly so after you move your office equipment to the new location it can be set up quickly and ready for production.
Toner And Printer Inks
As a part of moving your office equipment it may be necessary to remove the toner and ink cartridges to avoid the mess of spilling. If this is going to be the case, make sure that you have back-ups on hand or order replacements well in advance of the move. Either way, make sure that they are ready to load once the equipment is set up at the new place.
Coffee – Water – Vending Machines
If you currently have this type of office equipment at your current place and the plan is to move them, then you should check with your vendor to ensure a plan is in place to get this done and have them fully operational at your new office location. Also, remember to order supplies for them if needed.
Owners And Service Manuals
Round up all the service and owner's manuals for your office equipment and get them into one place with your other important documents and warranties and make sure you know where they are located after the move.
Service And Lease Agreements
No better time than when preparing for an office move to go ahead and review your service agreements, licenses, and office equipment leases. First of all, make sure they are all still valid and not expired. You can use this pre-move time to perhaps negotiate better terms or even upgrade to newer models and versions rather than moving your current equipment to the new location. Take a look and get in touch with your vendor to see if a new package deal would make sense and even save you some money.
Do An Appraisal Of All Your Office Equipment
Is your current office equipment getting a long in the tooth? Is it approaching the end of its lifespan? Is some of the office equipment no longer supported by the manufacturer? Has it started to need more regular repair and maintenance visits? If so, your old office equipment may be on verge of becoming more expensive to maintain and operate. Is it time for an office equipment refresh? If so, contact your current vendor and a few others. You may be able to upgrade some or all of your office equipment. You may be able to get your old office equipment hauled off and your new equipment delivered and set up at your new location, thus saving you the expense of moving your office equipment from one location to the next.
Prepare The New Location
Your new office location should be prepped and optimized for the arrival of your office equipment, furniture, and supplies. This means knowing ahead of time where everything is going to be located or otherwise stored. Cables, power strips and any other functional accessories should be ready and in place when your office equipment is unloaded. A little bit of this type of pre-planning helps to reduce the chaos and the stress.
If you're looking at relocating your office, the moving experts at M3 Commercial Moving & Logistics are ready to start planning your corporate relocation today. We have expertise and the knowledge of moving and logistics and will execute your relocation seamlessly and stress free so you can focus on your business operations. Whether you're relocating your business across town or beyond M3 Commercial Moving & Logistics has got you covered.